Happy Birthday Daughter - Quotes, Texts and Poems from Mom and/or Dad
Happy Birthday Daughter - Quotes, Texts and Poems from Mom and/or Dad
Your daughter - your little angel (maybe not little anymore) - is going to start a new year of her precious life. She used to be your doll and is now growing up and opening her arms to embrace the world. If you can not think of an appropriate birthday wish to write for her birthday, just check out this assortment of birthday wishes, created especially for an adorable daughter from a doting father, a protective mom or from both the loving parents. 
Your daughter's birthday is an excellent time to express your pride in her achievements, belief in her capabilities, or simply your unconditional love and affection for her. You can modify/personalize these poems as per your requirements, and have the satisfaction of seeing that amazing smile on your beloved daughter's face. Use any of the messages as is, or feel free to modify them to suit your unique relationship with your daughter.
There are eCards too, which are designed with a lot of love. Some beautiful images and gorgeous script fonts* which entice you with a language of their own.    

Custom Search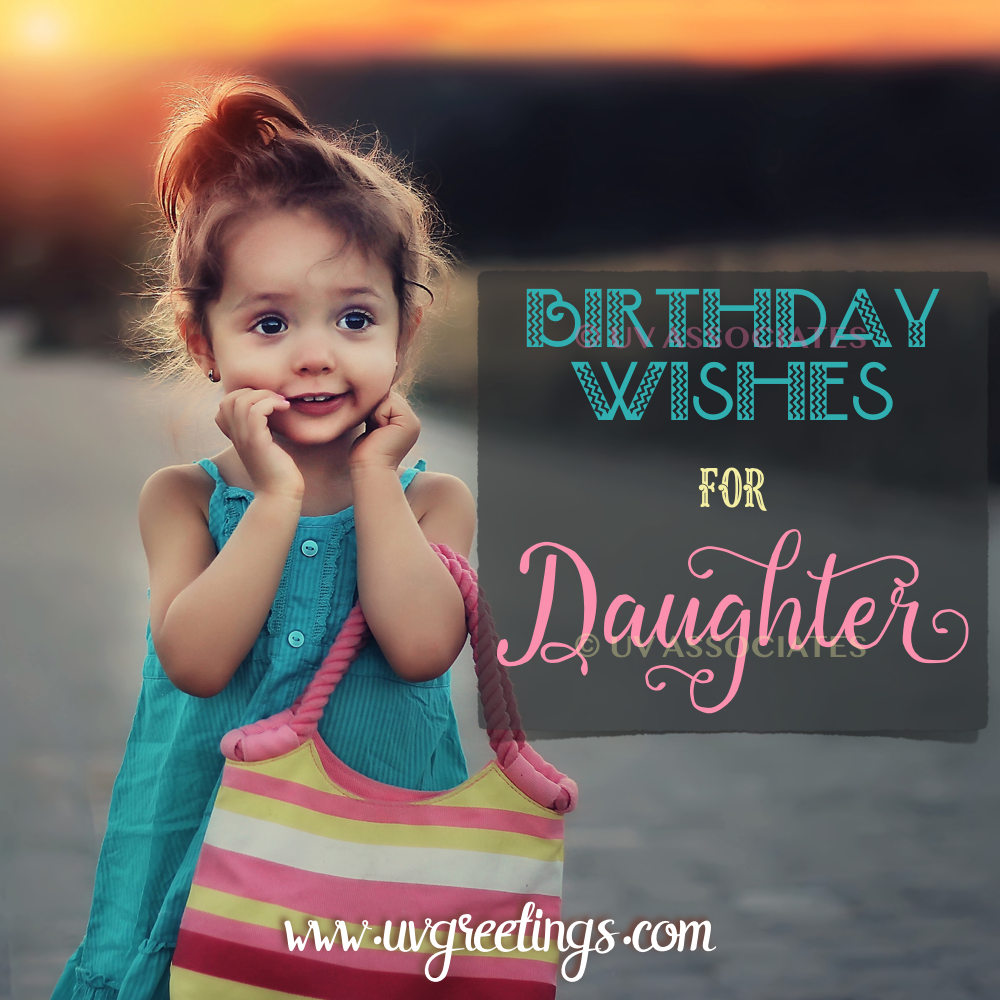 Birthday Wishes for a Daughter from Mom
My Adorable Protector
The moment you entered my life, you became the adorable princess of my heart,
A dream I nurtured gently, with fierce protectiveness, which nothing could thwart,
I see the same protective streak in you for me today; I can't help feeling amused,
My little girl is not little anymore, she has become a savior who can't be defused,
Your love for me and your Dad make us deeply humbled, of course, we're proud,
I wish your life's always like bright sunshine, without even a shadow of any cloud.
Happy Birthday to my Adorable Protector.
Don't Miss the Ride! 
I can't say this often enough… I am there for you no matter what dear one, go ahead and enjoy the rollercoaster ride that is life! You are special, you are full of life, and determination and all that is required to make your dreams come true. So, don't you let anyone tell you differently, and off you go. Happy Birthday to my wonderful Daughter!
From My Dream to My Best Friend... 
When you were little, you were my baby, send right from dreams into my waiting arms. Now all grown up and graceful, all mature and thoughtful, you are the most trusted advisor, the most cherished friend, and of course, the most loving daughter I've ever met. They say you get as good as you give. When it comes to you, I have struck gold, I have got a lot more than I could ever give you sweetheart. So proud of you, and so humbled to have this beautiful relationship with you. Happy Birthday to the best daughter in the world!
Disheartened at First, but then...
At first, I was disheartened to realize how different you are from me. And then I started to realize that you are more than who I wanted you to be, you have become someone I needed you become. The perfect complement for me. You have given me such a beautiful extended perspective of so many aspects of life. I love you, and I am grateful for all that make us different honey, we might argue about all these different opinions, but don't let that bother you. Happy birthday to my doll!
Birthday Wishes for a Daughter from Dad
You Take Our Heart Away...
I thought I will never love a woman more than you Mother. Then you came in our world, making it bustle with so much joy, that both your Mom and I fell in love all over again. On your birthday, I want you to know, that you still take our heart away with just one smile. With loads of love, Happy Birthday to Daddy's Princess.
Strong Doubts
I always had strong doubts, whether I'll be a good father to you. But when I saw you for the first time, the doubts weren't strong anymore. When you grew up a little and lay a pair of adorable little eyes on my face, the doubts started to become really weak. When you smiled at me and called me Dada, I didn't have a trace of any doubt anymore. I wanted to become not just good, but the best dad for you. It's not that I didn't make mistakes, but you're so precious, I have to keep trying. And you've helped me all along, you've always been better than me. Happy Birthday to my Precious Daughter.
Sharing Something with you, from my Past...
On your birthday, I want to share something with you from my Past. As a young boy, I had many friends. I felt a deep fondness for them. Or so I thought. I felt quite passionate about them. Or so I thought. Then I got married, and I realized, there are deeper bonds to be experienced in Life. I was quite protective of your Mom. Or so I thought. Then, we had you little one, and I realized, that no other bond could come close to the depth of protectiveness and love I had for you. Now you're grown up, and I understand you need to open your wings and embrace the sky of your dreams. And I cherish the glow of happiness on your face. But inside my heart, you are the same little precious bundle of joy, who I would love and protect with all I am, and you will always be. Happy Birthday to the Dearest Daughter of the World.
A birthday wish for a wonderful daughter from a mother who wants her to enjoy the Rollercoaster Ride of Life.
A birthday eCard for a lovely daughter who takes away her parents' hearts with a smile, from a doting father. Happy Birthday Daddy's Little Princess!
Birthday Wishes for Daughter from both Mom & Dad
Your Thoughts Take Us So Far...

Your Birthday is a perfect time, to tell you how proud you make us,
Also to amaze you, to let you know, how far off your thoughts take us,
They take us back all these years in time when you were a tiny tot,
And we wondered if we'll be good parents, at the time it looked a lot,
We were not perfect, in fact far from it, but what we didn't know then,
That all we need to know, we'll learn from you without a paper or pen, 
Your smiles told we did something right, world became instantly bright,
The frowns were adorable too, but they told us to stop and get a clue,
That our princess is not all happy, there's something that needs a fix,
And we were like at beck n call, whether the clock said twelve or six,
Now the person you've become lets us be happy and think, all right, 
We did something correctly, as our kiddo is happy, lively and bright!

We wish even more happiness for you, Happy Birthday to our Darling Daughter.
Sons are Naughtier... Really?

We were told that sons are naughty, daughters are cute. But then we had you, and you made sure that all such claims were proved to be bogus. The epitome of both naughtiness and loveliness, you made us feel alive with so much buzz. We are thankful to have a daughter so full of life as you are. On your birthday, we just want to tell you, don't let anyone or anything change that dearie. Have a lot of fun on your birthday! Happy Birthday.
For a Wise Daughter
We all know that aging is a compulsion, growing up is not, but you've grown up so much at such a young age, we're ecstatic. Your wisdom, all your advises are treasurable gems sweetheart, and we value them a lot. Having a share in the credit of all this wisdom makes us so full of ourselves, we've got to control it! Happy birthday to our agelessly wise princess.
What could be a better way to wish a beautiful girl than sending her a beautiful Rose...  
Short Texts / Facebook Status Messages for Daughter's Bday 
Beautiful collages of little girls on their birthdays are so trendy, that a separate section of special wishes to go with such collages adorning the Facebook timelines of their parents are actually necessary, else this hub will be incomplete.

These few years flew like time got wings. You came in our life and became the little princess of our hearts, and your rule is going to last forever. We're so blessed to have you! Happy Birthday to our cute little princess.
Sometimes, we get confused, whether you are more naughty or cute. One thing is for sure, though, you are the most precious blessing we've ever had. Happy Birthday and loads of love and blessings little one.
Our little girl seems to be in a hurry of growing up. On her fourth birthday, we want to tell her, just slow down okay, we want to enjoy these little joys of your childhood for a little longer dear one. Happy Birthday to our little angel. 
Before we had you, we didn't think anyone could be so cute. While we know, all parents feel the same for their kids, we can't help ourselves, so Happy Birthday to the cutest little girl on the whole Planet
A Note from the Author
Daughters for most parents are more special than sons are. Little girls' emotional bonds with their parents are generally stronger than male peers of same age group. And thus all these wishes are intended at intense bonding between mother and daughter or father and daughter. However, your feedback is most welcome, whether it's positive and encouraging, or negative and constructive, it always helps to improve, and would help to add more wishes that are apt for your unique relationship.
The Fonts in The eCards
*Most of the beautiful script fonts used in the eCards designed on this page are premium fonts purchased from my favorite online digital marketplaces FontBundles and DesignBundles.       
A birthday video card for a daughter who is as naughty as cute, and keeps her parents confused. Some cute little animations for a precious princess.

Custom Search